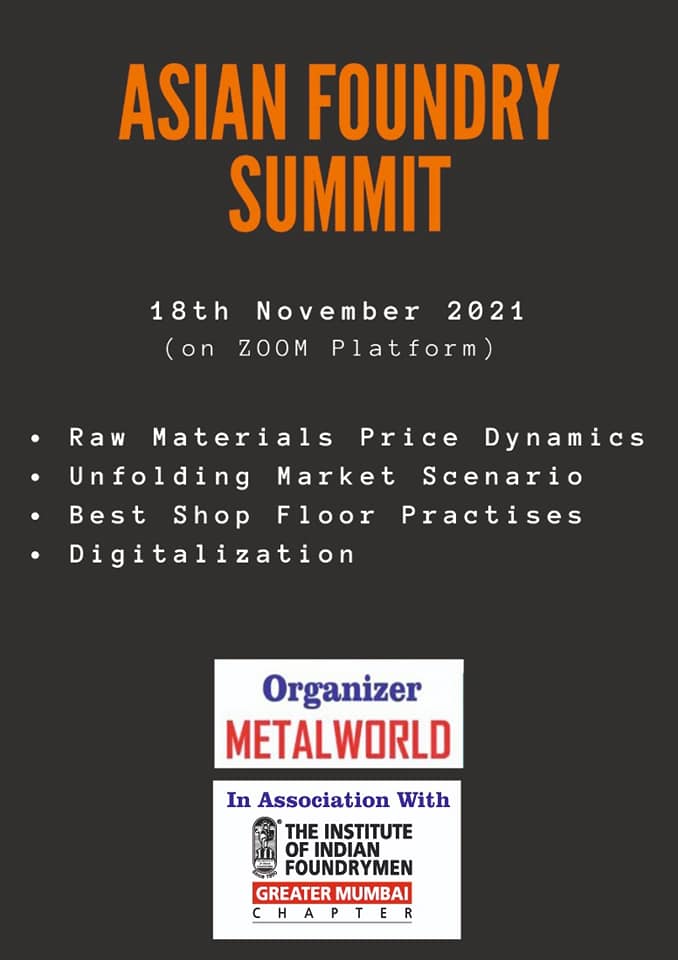 Asian Foundry Summit 18th November 2021
As you may be knowing 'Metalworld' is the most authentic and popular publication in Asian metals sector for more than two decades. Apart from publishing, we are producing B2B conferences & exhibitions on metals industry on a regular basis. Since the spread of covid pandemic, we have successfully shifted all our events on digital platform.
The Institute of Indian Foundrymen is the apex trade body covering the entire foundry sector and has been working tirelessly for the betterment of foundry sector with respect to technology, operations, markets, etc. in the country.
Our next conference 'Asian Foundry Summit' (Digital Platform) is scheduled on 18th November and will discuss various aspects of foundry sector in India and Asia. Today, foundries are deeply impacted by the raw materials price fluctuations and also by the ever changing market dynamcs. Further, there are emerging opportunities which need to be carefully identified and nurtured. The 'Digitalization' process has to mature enough so that the industry can start getting real benefits of it. Apart from discussing the prime issues facing the industry, the event can also help the individual companies to promote their products, services and brand across the industry.
'Asian Foundry Summit' is organised by 'Metalworld' in association with Institute of Indian Foundrymen, Greater Mumbai Chapter.
The event will be participated by the foundries, technology and equipment suppliers, raw material suppliers, policy makers, casting buyers, instrumentation companies etc. from Asian region.